Those Gilmore Girls
A Boxed Set Review


Now this is kind of embarising for me, but I'm coming out, I am a
Gilmore Girls
fan. I have a long history of flirting with this show (owing largely to its attractive leads and witty banter), wanting to watch it and then recoiling, thinking that somehow it would not b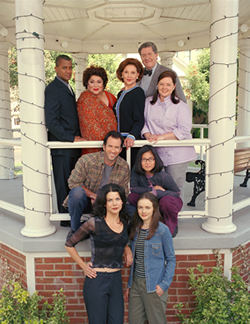 e proper. First off the paly relationship between the lead mother and daughter characters of Lorelai (
Lauren Graham
) and Rory (
Alexis Bledel
) Gilmore seemed kind of creepy to me, I mean didn't the Lewinski's having something similar going on when mother told daughter to 'save that dress.' That creepiness factor was re-enforced by a first season episode of
Six Feet
Under,
which used a clip of the show playing in the background to reinforce the 'not-rightness' of the mother/daughter relationship of some Fisher cousins. However television is a world of suspended belief, and if the writing is good and the characters are interesting, I am willing to bend to their logic. Also I found out that
a married friend of m
ine
and his wife watch the program regularly and that made viewing it seem okay. So some time later I started watching some 4th season reruns on
ABC Family
, this occurred at about the same time that a wave of Gilmore interest swept my household, and its wasn't long before we owned the first two seasons on DVD.
This is my review of the first season, when the show was at the height of its freshness. Now while this program is a 'chick-flick' for television, it is also one of the last refuges of screwball comedy, and has the wittiest TV dialogue this side of
Aaron Sorkin
. Also it is set in one of those TV small towns that you just want to move to, Stars Hollow, Connecticut. I am a big fan of televisions quirky little municipalities from
Evening Shade, Arkansas
, to
Sicily Alaska
, and
Twin Peaks, Washington
inbetween. Stars Hollow has a large cast of recurring local eccentrics, but its host program is really anchored to its titles namesake the Gilmore Girls, Lorelai and Rory. Lorelai came from an upercrust New England establishment family involved in international business, she had an unhappy childhood with her largely absentee father Richard (
Edward Herrmann
) and domineering mother Emily (
Kelly Bishop
). At 16 she got 'with child', and as soon as she was old enough left home with her young daughter and took up both residence and employment at a historic Connecticut inn. The series takes up just under 16 years after Rorys birth (which was apparently in the fall of 1984), with Lorelai now managing the inn, and her daughter just acepted to a prestigious private school called Chilton.
The action of the
series starts when Lorelai's parents agree to give their daughter the money she needs to send Rory to Chilton, in exchange for the eventual repayel of the cash and a bigger part in the two girls lives, manifested chiefly in mandatory Friday night dinners together. Aside from the intra-family elements of the program, much time is spent on the lead characters love lives, and with their friends and the wacky towns folks.
Melissa McCar
thy
is Lorelais best friend Sookie, a cook at the inn, while Keiko Agena plays Rorys best friend
Lane Kim
, a closet rock and roll lover who bristles under the rule of her strict Seventh-day Adventist Korean parents (though we only ever see the mother).
Scott Patterson
is Luke Danes, Lorelai's apparent soul mate and owner of the local cafe, while
Jared Padalecki
is Dean Forrester, Rory's first boyfriend.
Liza Weil
is Rory's sometimes friend, sometimes nemesis Paris Geller, and
Yanic Truesdale
is Michel Gerard, a stereotypically rude French receptionist at the inn, who left France because he can not stand French people.
Liz Torres
is Miss Patty, a local dance instructor and one time Broadway star who is the first seasons featured wacky local.
Basically this is just a really fun show with unique sensibilities. It is loaded with obscure references courtesy of head writer and series creator
Amy Sherman-Palladino
, who always manages to make her characters well rounded enough to avoid being cliches. Things progress in the series as they do in real life, and you are not returned to square one at the end of every episode. Though in recent years its viewership has fallen off somewhat, and many are unhappy with the direction the program has taken, at least in its early seasons it truly is a treasure and well worth the embarrassment that might come with watching.